Hippoes are mobs that spawn in water. They are big and take a few hits from a Diamond Sword alone to kill.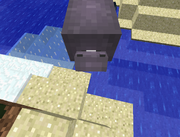 Upon death they drop 0-1 silver coins and around 3 copper coins. Strangely, they do not drop any hippo teeth.
These mobs aren't very fast so you can take them out nicely with just a sword, or a bow whichever you please.